Important: Please do not upgrade your Mac OS to 10.13 or above. Our current Panopto Mac recorder is not compatible with High Sierra, so we ask users who wish to use Panopto on their Mac to not upgrade to the latest OS. We will be upgrading the Panopto service over the summer (2018) that will allow it to work. Please wait until then.
These instructions are specifically for users of the Mac Panopto Recorder.
Step 1: Configuring the recorder
Unlike the Windows Recorder, the Panopto server address will not be automatically populated into the recorder. Type
coursecast.soton.ac.uk
into the server name field
Step 2: Logging in
All of Panopto's user and security information comes from Blackboard. No staff member can log in using the "Login" and "Password" boxes.
Click "Get Providers for Server".
A drop down list will appear.
Change the provider to "Blackboard". The Blackboard website will appear.
Enter your username and password into the text boxes.
Step 3: Creating a recording
Press the large "Create new recording button"
Choose the Blackboard course that you want to record into
Give your session a name
You should now select any cameras, microphones, screen capture (via Source – Built-in Display) and PowerPoint/Keynote capture if required. Panopto recordings must have an audio source to work correctly. Press Start Recording when you are ready.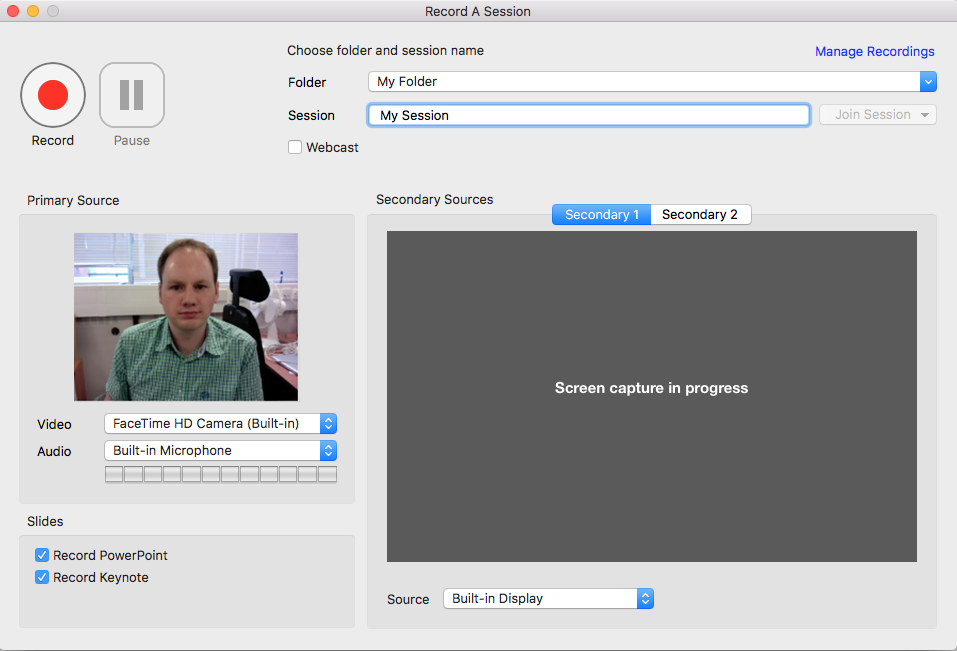 Your recording will upload automatically after pressing stop. Keep the Panopto recorder open until the video has uploaded to the iSolutions servers.