Using the HTML feature within Blackboard you may embed content from other websites. RSS feeds provide lists of news items that can be clicked through to access the originating content. Using a RSS widget embedded into a Blackboard course allows you to embed news items from other websites. There are many RSS widgets available that offer embed codes. In this guide I use http://feed.mikle.com/ which is a third party service that may change without warning, please read the Terms of Service before following this guide.
Go to http://feed.mikle.com/
1. In your web browser go to http://feed.mikle.com/.
2. Paste the RSS feed you wish to use into the Feed URL text box and click on Add Feed.
General Options
3. Set the general options according to your preference. The live preview will update to show you the impact of any changes.
Feed Title
4. Set the feed title options according to your preference. The default settings should be fine.
Feed content
5. Set the feed content options according to your preference. Again the default settings should be fine.
Review
6. Review the preview and check that it looks as expected. Adjust the previous options if you wish to change it.
Copy the code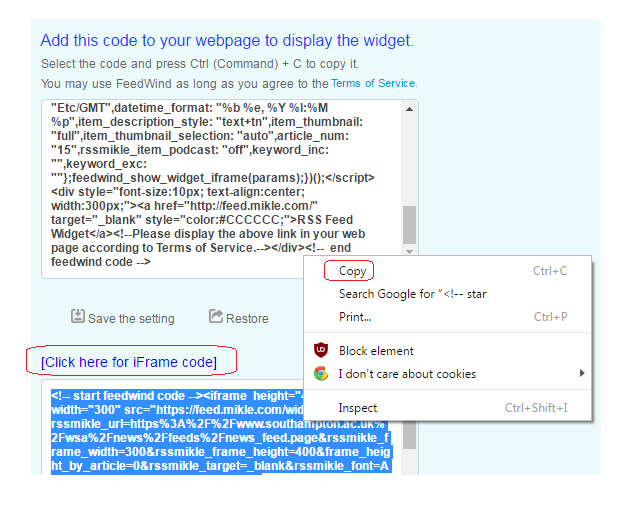 7. Identify the box below the line Add this code to your webpage… and then click on "Click here for iFrame code", a further box of code will be revealed.  Click into that box.
8. All the text should be selected, right click on the selected text and choose Copy from the context menu that appears.
Into Blackboard
9. Now we will go to Blackboard.
10. Identify where in your Blackboard course you would like to place the feed, add the item, announcement etc.  Add the item desired.
11. Set a Name, and any relevant text in the text box.
HTML
12. Click on the HTML button to open HTML mode. A new windows will appear allowing you to enter the HTML code required to embed the rss feed.
Paste
13. Paste the text you copied into the clipboard at step 8 above into the Blackboard text box. One way to do this is to right click within the text box and choose paste or press CTRL + V.  Click on the Update button when you have finished.
Submit
14. Scroll to the bottom of the page and click on the Submit button.
Success
15. Your RSS feed is embedded within your Blackboard course.