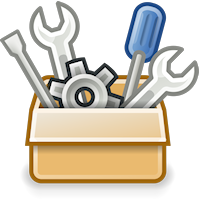 We upgrade Blackboard each summer to in order to maintain support from the application vendor, ensure compatibility with current browsers, and benefit from new features and enhancements.
Below you will find highlights of new features with links to guides on how to use them.
With any upgrade some bugs are fixed but some new ones arise, the known issues page linked to further down this page summarises any current issues.
---
Blackboard has a new interface
As part of the upgrade, we have updated the Blackboard user interface.  How you use Blackboard's features remains the same.  We will be updating the screenshot on our help guides to match the new interface over the next months.  Watch this video for an introduction to the new Blackboard.
---
Course colour schemes have been reset
Course themes and the ability to have a button style course menu have been disabled because they are incompatible with the updated interface. These interface elements sometimes have inherent accessibility issues which can make it difficult for users of Blackboard to read.
All existing course colour schemes have been reset to the University default settings as part of the upgrade. Existing course content is unaffected, as are course banners. Instructors will be able to change their course menu colour schemes if they wish to after the upgrade, and will continue to be able to upload course banners.
Watch this video to find out more.
---
Internet Explorer is no longer supported for use with Blackboard
Internet Explorer (IE) is no longer be supported for use with Blackboard.  Microsoft ceased development of Internet Explorer in January 2016.  Use of Internet Explorer with our Blackboard service only accounts for around 4% of sessions.  While Internet Explorer may work for some functionality, other aspects of the interface will not render as intended and if you report any issues we will advise you to try a supported browser in the first instance.
Edge, Chrome, and Firefox will be supported for use with Blackboard on Windows platforms, while Chrome, Firefox, and Safari will be supported for use with Blackboard on Macintosh platforms.
Edge is the default browser In Public Workstations, Common Learning Spaces, and Lecture Theatres.  Staff PCs, including those on Windows 10, still have Internet Explorer as their default browser but staff can change this setting.  Staff are able to install Chrome and Firefox from the Additional Software link.
Watch this video to find out more.
---
The Accessibility Toolbar (ATBar) from the ECS Accessibility Team is embedded into Blackboard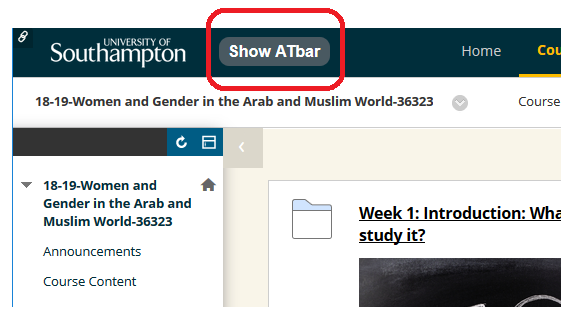 The Accessibility Toolbar (ATbar) is a browser based toolbar to provide accessibility tools when viewing websites, with the option to change the look and feel of webpages through text only enlargement, font style and colour changes plus increased line spacing. There are also features for text to speech, a dictionary, spell checking, word prediction and colour overlays.
This is an open source project created by the Accessibility team in the School of Electronics and Computer Science at the University of Southampton.
You can now use this toolbar in Blackboard. Click on the ATbar icon to access the Accessibility Toolbar.  This easy to use toolbar gives you the option to change the look and feel of the Blackboard page you are viewing through text only enlargement, font style and colour changes plus increased line spacing. There are also features for text to speech, a dictionary, spell checking, word prediction and colour overlays.
---
Responsive interface
Blackboard now has a responsive interface.  This means that when you use a mobile device, Blackboard should automatically resize to fit your device.
Better (but not best)
Blackboard will now perform much better on mobile devices, particularly for students.  Instructors will still find that Blackboard is more comfortable to use on a standard browser on a computer or laptop, particularly when using the Grade Centre, Turnitin, and Blackboard Assignments.  On a mobile device the larger your display the more comfortable your experience.
While we have resolved as many bugs and issues with the new theme there are some issues we await resolution by the vendor:
The Hamburger menu in the mobile view when used on a computer browser does not work on the first attempt, refreshing the browser (keyboard shortcut F5) will allow the hamburger to work.
The links to student preview, edit mode, and help toggle that appear when clicking on the cog icon as an instructor in the mobile theme may not appear.  Changing the orientation of the device (e.g. from portrait to landscape, or vice versa) will resolve the bug.
In mobile view when the menu is accessed from far down the page you may need to scroll up to see the menu.
Dedicated Blackboard apps for staff and students
Did you know there are dedicated Blackboard mobile apps for staff and students?  Although only a small subset of functionality is available within these applications, when the app sends you to the native web version of Blackboard this upgrade means that you will have a better experience.
---
Important Control Panel Links for instructors are easier to find
Links to view course membership photos and undertake course copies (rollover) have been duplicated and given better visibility in the Control Panel. This is following specific feedback from colleagues within faculties at the University.  We hope that this will prove particularly helpful when it comes to preparing courses for the new academic year, which is often a stressful time for staff.
---
More help, where you need it most
We have introduced a number of new in-line help banners which are designed to provide specific help at the point at which you need it.
When your course is unavailable to students a banner is shown which alerts you to this and provides a quick and simple button which will help you to make the course available.  Other relevant help links point you toward relevant guides offering more help.
Additionally, in-line help is provided during the course copy process when you come to rollover your materials to a new course.  A summary of the steps and requirements is shown, along with a link to the rollover guide and a handy one-click button that will set our recommended options for course rollover.
We hope to add more of these in-line help banners over the coming months, and welcome any feedback and ideas on how to develop this feature.
---