If you have an arrangement to use materials from cengage follow these instructions to set up your Blackboard course.
1. From your course Control Panel, expand the Customisation section and click on Tool Availability.


2. Find Cengage Learning MindLinks and Cengage Learning MindLinks Tools as shown below and tick the boxes beside them.

3. Click on Submit.

4. Enter the content area within which you wish to hold your cengage materials.
5. Hover over the Tools menu, choose More Tools, and click on Cengage Learning MindLinks.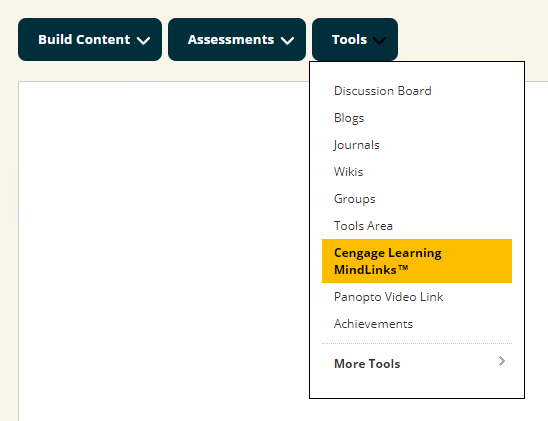 6. You may receive a notice that you are being transferred to Cengage.  Click on launch to continue.

7. Choose the relevant content source:
8. Your cengage representative will guide you through any remaining steps.
For help and support with the cengage materials and integration with Blackboard, contact your cengage representative.