Blackboard has a calendar feature which may be accessed via the Global Navigation menu.
You can choose whether you wish to have your calendar represented using the Gregorian calendar, the Hijiri Calendar, or a mix of both.  You may also choose on which day the week should appear to begin in your calendar.  The Hijiri Calendar implementation uses the Umm al-Qura algorithm for date calculation.
From within Blackboard click on the My University of Southampton tab and choose Personal Information from the Tools box on the left.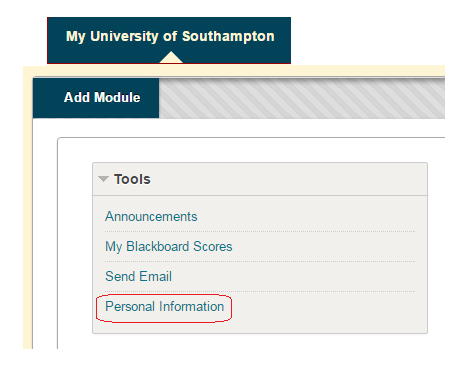 Choose Change Personal Settings

Select which calendar you prefer. The options are:
Gregorian only
Gregorian-formatted with Hirji date conversion in parentheses
Hijri only
Hijri-formatted with Gregorian date conversion in parentheses

Select on which day you would like your personal calendar's week to begin, the options are Saturday, Sunday, and Monday.

Click on Submit to finish.
Below are examples of the different calendar options.  Sunday has been set as a personal starting day of the week, and the four calendar options are shown.