Courses created for the new academic year will contain no content.  If you wish to re-use course materials from another course, follow these instructions.
Copying course materials into an existing course will add content to a course, but it won't remove existing content. Past student enrolments or activities are not copied over.
Find your new courses
Check that that your courses for the next academic year are visible in Blackboard. If you do not see a 21-22 Blackboard course listed, please refer to the guide Prepare your Blackboard courses for the next academic year.
Enter the original, source course.

Log into Blackboard and open the source course that contains the content you want to copy (rollover). This will normally be last year's course – 20-21.
Course Copy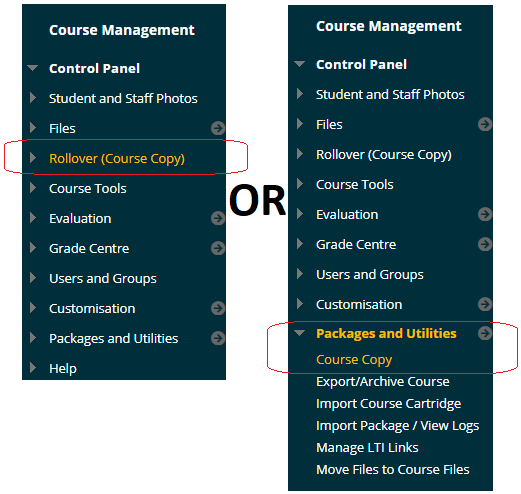 From the Control Panel select Rollover (course copy)
OR select Packages and Utilities and Course Copy.
Course copy options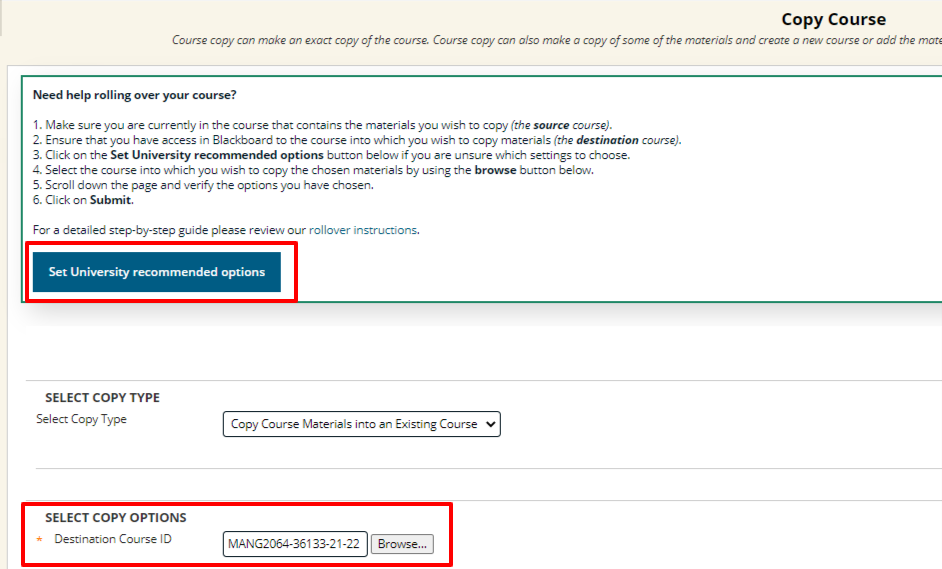 To copy over last year's materials to a new course, select Set University recommended options.
Browse and search for the Destination course ID – the new course where you want to content to be copied to. This will normally be the next year's course 21-22.
Check the Select Course Materials list and make any adjustments. We would usually recommend copying over the static material and settings only – the University recommended options. For more information on other options see Behavior of copied materials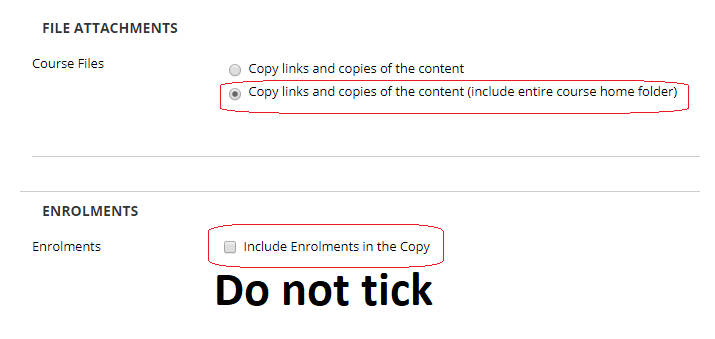 To ensure all of your course files area is copied over, select the option Copy links and copies of the content (include entire course home folder).
Do not tick Include enrolments.
Select on Submit.
Confirmation
You will see a screen telling you that your request has been queued and that you will receive an email when complete. The process should not take longer than 20 minutes.
Check your new course and make sure that the content has copied over correctly.
Troubleshooting
The course menu looks different
Your new year's course will have the default template course menu. If you changed your source course's menu you will find the template menu links as well as any you added last year.  You can hide or remove any menu items you don't require and move your menu items so they match the previous year. NB Make sure any content areas are empty before you delete them. See the guide to editing the course menu. For more information see Resolving copied course items.
If you find any anomalies please contact ServiceLine
Turnitin Assignments
If you use TurnitIn assignments, be aware that if you copy over your assignments from last year they will need to be updated to have the due dates for the new academic year. Sometimes, TurnitIn assignments that have been copied over from last year will present an error message stating, "Database error verifying assignment". In such cases please delete the assignment and recreate it in the usual way.
Re-using Panopto recorded sessions.
Panopto "Recorded Sessions" will not be rolled over into a new course by default. If you want to re-use recorded sessions or if you have embedded Panopto content in the course, follow this guide to Rolling over Panopto content