Blackboard for NHS Staff and Visitors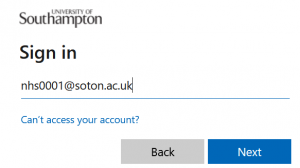 To log into Blackboard, use the Access Blackboard button below and enter your Blackboard Username, followed by your password on the next screen.
Your Blackboard username is your external account username followed by @soton.ac.uk. You must enter @soton.ac.uk even if you do not have a University of Southampton email account.
Example: If your NHS username is nhs0001, your Blackboard username is nhs0001@soton.ac.uk.
Access Blackboard
If you see an error, see "Accessing Blackboard for NHS staff and visitors already logged into a Microsoft account" below.
If you have forgotten your password, you can change it on the NHS.Soton Forgotten Password page.
Blackboard for Guests
A guest is a special account that can see courses that are publicly facing. Guests cannot participate in courses and may not be able to see all course areas. If you have a University of Southampton account, NHS account or visitor account, you should not use Guest Access.
To sign into Blackboard as a guest, use the Enter Blackboard as a Guest button below.
Enter Blackboard as a Guest
Accessing Blackboard for NHS staff and visitors already logged into a Microsoft account
If you use Microsoft Email / Accounts for your day-to-day work (for example a .nhs.uk email or another University account), Blackboard will attempt to sign you on with this account and will fail.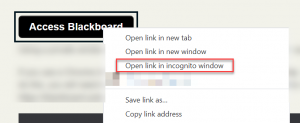 If this happens right click on the "Access Blackboard" button below and select one of the following
Open in a new In Private Window (Edge)
Open link in a new Private Window (Firefox / Safari)
Open in incognito window (Chrome)
(Right click to) Access Blackboard
Using a private window will force the Single Sign-On page to ask for your username and password, even if you've signed in before.
If you use a Chrome incognito window, set the switch to allow Third Party Cookies, this is necessary to allow certain integrations to perform effectively.  To do this, you will need to open a new incognito window (via the 3 dots in the right-hand corner) and allow third party cookies, before entering https://blackboard.soton.ac.uk.