What is included in search results?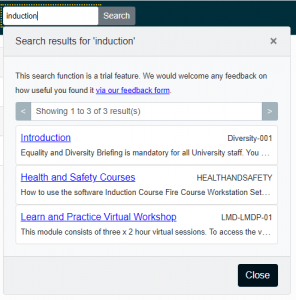 The Search box on the Blackboard home page will return search results from all Blackboard courses a person is enrolled on. It will search the titles, body text, and the content of attachments. However, there are some limitations:
At the moment, it will only search those items added with the Create Item and Create File commands. It will not include, for example, announcements, assignments, discussion posts, or content accessed via Blackboard but held elsewhere, e.g. in Panopto.
Search results will honour simple Display After and Display Until date restrictions, if those are set. However, they do not support more complex forms of Adaptive Release such as restricting to individual users.  If this is a problem, you might want to consider excluding the content from search results (see below).
When new content is added, it will generally be available in search results within two hours, and at least within 24 hours.
If content is deleted from a course it is not immediately removed from search results – this will occur within 30 days. Though note that just because the link appears within search results does not mean people can still access the item.
Excluding content from search results
Content can be excluded from search results by inserting the text [nosearch] in the appropriate place
Hide a single item by adding [nosearch] to the Text of the item.
Hide all items within a folder by adding [nosearch] to the Text of the folder.
Hide all content from a course by adding [nosearch] to the Description of the course (under Course Management -> Customisation -> Properties)