You can request a Blackboard Programme Course to hold programme level information and communication. Students can be auto-enrolled and the course will appear under a separate heading on the Blackboard Home page. A Programme Course does not hold any assessment data.
How are students enrolled on a Programme Course?
Staff and students can be auto-enrolled onto Programme Courses via their Banner,  programme codes. When you request the course*, include the programme codes, and years, that will be associated with the Programme Course, and we will set up

auto-enrolment.

The

 enrolment feed will be updated daily to match programme enrolments in Banner.

 

Course set-up and enrolments will suit your programme delivery and your definition of a "Programme". In some areas, one course can be set up for all students in a department, or you could have separate courses for particular groups of programmes, year groups etc.

 

The course name and ID will not contain a year – the course will not need to roll over each year.

New students will be enrolled on the course via the enrolment feed from Banner & old enrolments will be dropped.
What is a Programme Course for?
A Programme course helps to give your programme an identity and sense of community.

 

Course Announcements & emails can be used for communication with the programme cohort. 

Use Blackboard collaboration tools such as discussion boards and Collaborate – MS Teams integration will soon be available in Blackboard.

The course can be a place to gather the information that is otherwise repeated in module courses, on Faculty Hubs (programme specific), delivered via other arbitrary courses, or sent via email attachments.

 

Some suggested content areas could include:

 

Induction

 

Academic Integrity

 

Paperwork & regulations

 

Programme specification

 

Module outlines 

 

Careers/employability 

Staff Information

 

Links to related societies and student reps

 

Assessment information

 

Sources of help and support

 

Study skills

Events

 

Key dates

 
A Programme course should not include assessment

. If you want to merge separate Banner module courses into a single Blackboard teaching course, please see this guide.

 
How will a Programme Course appear on the Blackboard Home page?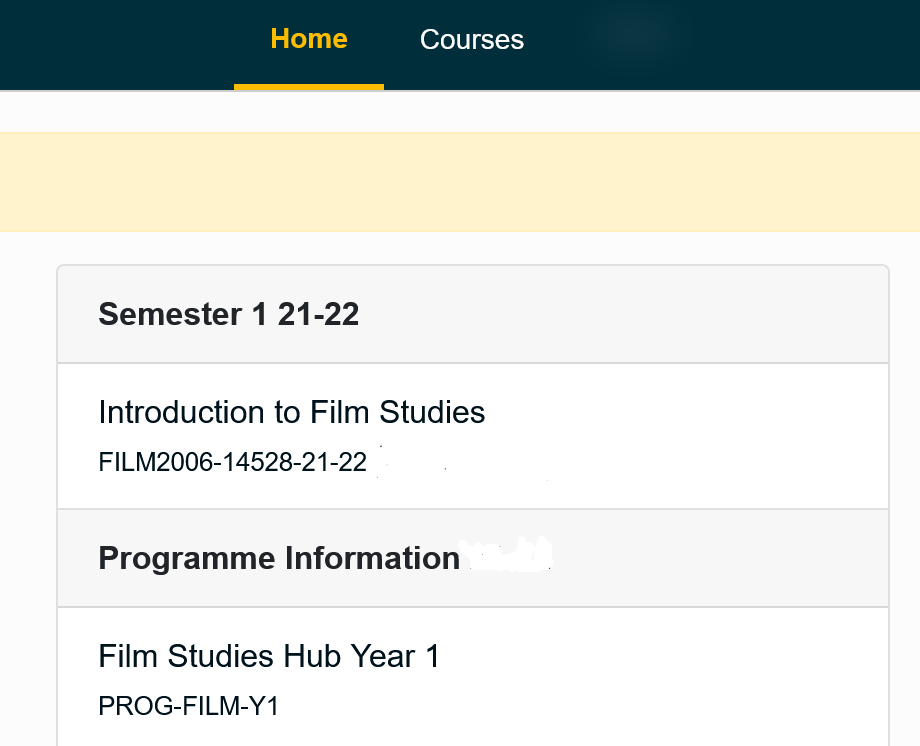 The course will appear under a separate heading "

Programme Information

" on the Blackboard Home page.

Course ID will start with PROG-.

 

You can define the course name to suit the programme.

If you are in the All Courses view, Programme Courses are listed under the Term – Programme Information. To group your Courses list by Term see this guide.
We already have an arbitrary course for programme information – can we set up an auto-enrolment & Home Page listing?
Many areas already have a successful Programme course. 
Sent a request (see below) with the existing course ID and name and we can auto-enrol your students and list the course to the Home Page under "Programme Information".

 
*How do I request a Programme course?
Open a ServiceLine ticket with the description – Blackboard Programme Course request.

 
Include: 
Course Name.

 

Suggested course ID .

 

School or department.

 

1 member of staff to be added as an instructor.

 

Related programme codes for enrolment – with year groups if required.

 

Let us know if you would like to speak to a member of Education Application Support for advice.

 
Programme course – design guides
Course Banner
The programme course template comes with a course banner. If you want to change or edit the banner, you can download this template (includes instructions on saving and uploading a new course banner image). Programme course – banner template