Return to Blackboard Collaborate For Staff Main Page ↵
The Session attendance report provides an overview of attendees who joined a session, what time they joined the session, what time they left the session, and how long each attendee was in the session. Each report comes with a Session ID, a unique session identifier that includes information Blackboard support can use to troubleshoot issues with the session.
All attendees are counted whether they joined from a browser or a mobile app. If a session is used multiple times, there will be a report for each time it is used.
Filters are available to find the report you are looking for. Filters can be done by date range, or by session name. A specific attendee's name can also be searched by opening a report, selecting Search Report, and typing the name of the attendee you are looking for.
To run a session attendance report:
Access the Session Options for the session you'd like to run the report for by selecting the ellipsis to expand the Session options menu.
Select View Reports.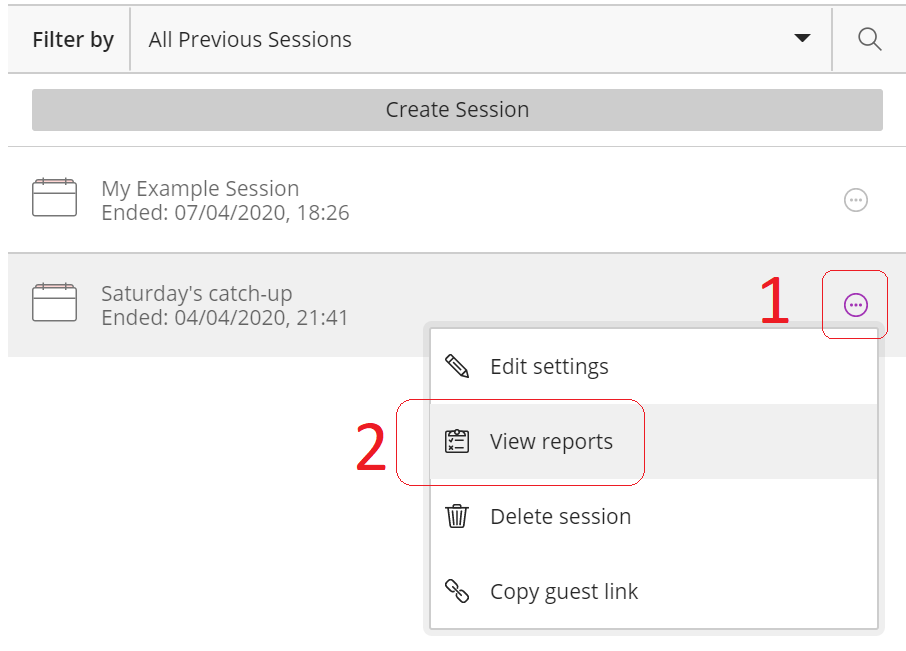 The Reports page defaults to Show Recent Reports. Users may toggle this drop down to Show Reports in a Range and enter the range start and end dates in to the Date Range fields that appear.
Select the View Report icon to the right of the desired session date.

The screenshot below is an example of a report.  Note that on the left there are options to export this information to a CSV file or a print friendly page.

Note also that information such as username, student id, and email address is not included.  This is the current full extent of the reporting information available.