These instructions show how to add a link in your Blackboard course to a piece of content held in EdShare.
When adding content to EdShare please consider:
Will your students have access to this content or is it restricted to certain users, Staff only, or Schools only?
If the content in EdShare is changed then the link you use will point to the newer version.
If you rollover your Blackboard course to a new academic year the link to that content will also be rolled over.
Copy Link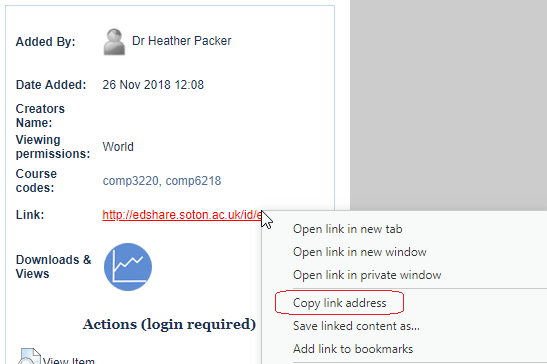 2. Right click on the link and choose copy shortcut / copy link address (this varies across browsers) from the context menu that appears.
Add External Link
4. In your Blackboard course enter the content area in which you wish to add the link.
5. Hover your mouse pointer over Build Content and then click on URL.
Paste Link
6. Enter the Name for the item.
7. Right click in the URL box and choose paste from the context menu that appears. This will paste in the link to the EdShare content.
8. You may wish to enter contextual information in the Text box.
Open Link in New Window?
9. Ignore section 2, unless you wish to attach a local file at the same time.
10. In section 4 you may wish to set the option Open in new window to yes. This would open the EdShare content in a new browser window.
11. Click on Submit to finish.