We have received a small number of reports of issues experienced by staff and students when they use Collaborate such as
Session not starting (purple wheel never stops spinning).
Audio issues e.g. you cannot hear anyone or they cannot hear you.
Connection issues, e.g. drop-outs, connection loss, stutters etc.
Connecting from outside the UK.
If you are connecting to Collaborate from outside the UK, follow this link to How to get the best experience when attending a Blackboard Collaborate session from outside the UK
Restart and re-join
If you cannot connect, have a poor connection, or make any changes suggested below :
Leave the Collaborate session.
Close the browser you were using to connect to Collaborate (the entire browser and not just the browser tab).
Wait a couple of minutes and re-open the browser and re-join Collaborate.
Are you using the right web browser?
We recommend using Google Chrome* in the first instance and then Firefox.
Visit the Browser Checker to make sure your browser is supported
A full list of supported browsers and operating systems is available here: Browser Support
*If you are connecting from China see the section above on connecting from outside the UK.
Make sure the browser is up to date.
How to update Chrome: https://support.google.com/chrome/answer/95414
How to update Firefox: https://support.mozilla.org/en-US/kb/update-firefox-latest-release
Try the other browser
If you experience problems with Collaborate whilst using Chrome, try Firefox.  If you experience problems with Firefox, try Chrome.
Enable third party cookies
Ensure that your web browser is allowing third-party cookies, these guides explain how:
Chrome: https://support.google.com/chrome/answer/95647
Firefox: https://support.mozilla.org/en-US/kb/content-blocking#w_turn-content-blocking-off-on-individual-sites
Try an incognito window
The next step is to try using the session in a private or incognito window.  This resets certain settings and can be an effective way to work around some configuration issues.
How to open an incognito window in Chrome: https://support.google.com/chrome/answer/95464
How to open a private browsing window in Firefox: https://support.mozilla.org/en-US/kb/private-browsing-use-firefox-without-history
Clear the Cache
If that does not help the next step is to try clearing your browser cache. This guide explains how: http://www.wikihow.com/Clear-Your-Browser's-Cache
Try the WebRTC troubleshooter
Collaborate uses a technology called WebRTC.  The WebRTC Troubleshooter website tests that this is working for you and can pick up issues and help you to fix them.
Best practice for a good connection.
Close all programs & browser tabs you are not using while in Collaborate.
Use a hard-wired (Ethernet) connection, if available.
If you are using  Wifi , sit as close to the router as possible
Use only supported up to date web browsers (see sections below)
Use video during the session only when necessary.
If your connection is poor, a connection status indicator appears over your Collaborate profile picture. Move your pointer over it for the connection details. See the Connection status guide.
This publicly available knowledge base article discusses the most common issues when connecting from a domestic connection.
Using an Apple Mac?
The latest versions of OS X have extra security settings you need to make for devices to use the camera and microphone.  If you use a Mac / OS X please read through this guide on how to set the correct permissions.
Experiencing issues connecting from within an institution or business?
Some corporate and institutional networks may block the HTML5 Web Socket traffic upon which Collaborate relies.  Try on a domestic connection to see if you get the same issues.  If you do not, it could be an issue with the network in the institution or business you are connecting from.  Ask the network administrator to review the relevant information here.
Give Permission
It is vital that you all Collaborate to use your microphone and camera.  You are likely to ask to approve permissions that look like this: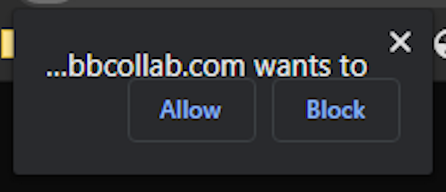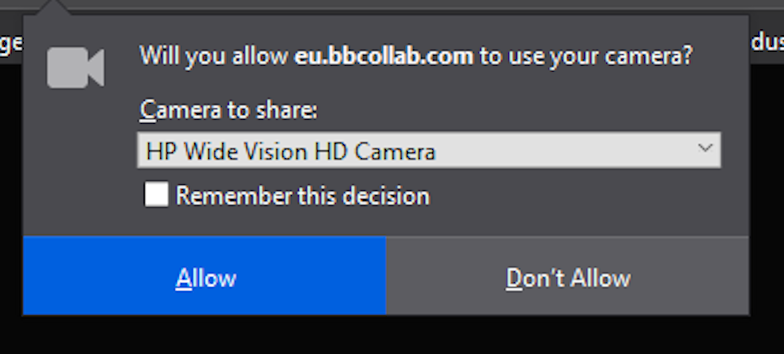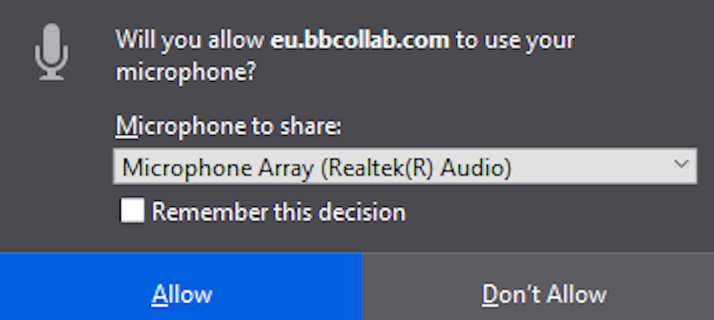 If you did not give permission
We can be so used to clicking "no" that we may accidentally prevent Collaborate from having permission to use our microphone and web cam.  If you find that people cannot hear you or see you, check that you have given permission for Collaborate to use your camera and microphone.
How to review permissions in Chrome:
Review the guide at https://support.google.com/chrome/answer/114662
Having reached the Site Settings page, choose "View permissions and data stored across sites" and search for bbcollab.  Open all that appear one after the other and choose to allow Camera and Microphone.
How to review permissions in Firefox:
The process is fairly similar in Firefox, see: https://support.mozilla.org/en-US/kb/firefox-page-info-window
Sound output?
Blackboard Collaborate allows you to alter the microphone input and webcam settings, but not the audio output. Blackboard Collaborate will use the system default audio output / playback device, so ensure this is set correctly before opening Blackboard Collaborate. This is particularly important if you have multiple devices connected to your computer, such as speakers, headsets and external monitors.
No sound (you can't hear other attendees)
Ensure that the correct audio device (speakers) is selected.
Ensure that sound volume on the computer is not muted or set really low.
Ensure that sound volume on the desired audio output device (e.g., speakers or headset) is not muted or set really low. Some headsets have a mute or volume knob on them.
Ensure that cables going to speakers or headset are all firmly plugged in.
If the above do not work, try rebooting the computer and/or try another web browser.
Try playing a YouTube video to see if there is sound. Collaborate will produce sound using the same audio device (e.g., speakers or headset) as other websites such as YouTube.
Windows 10 Sound
Windows 10 allows users to set audio preferences for individual apps. Some apps listen, others don't. Because Collaborate runs entirely in your browser, you have to check settings for your browser.
1. Right-click the speaker icon in your system tray. This is usually at the lower right of your computer monitor.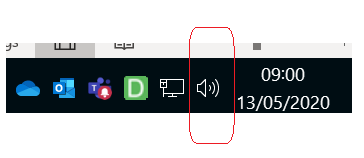 2. Select Open Sound Settings.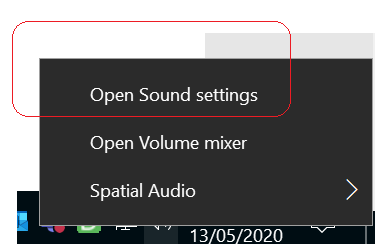 3. Check your default Output device. Normally this will be the speakers or headphones you regularly use, but not always. You can use the dropdown menu to change your default for the system.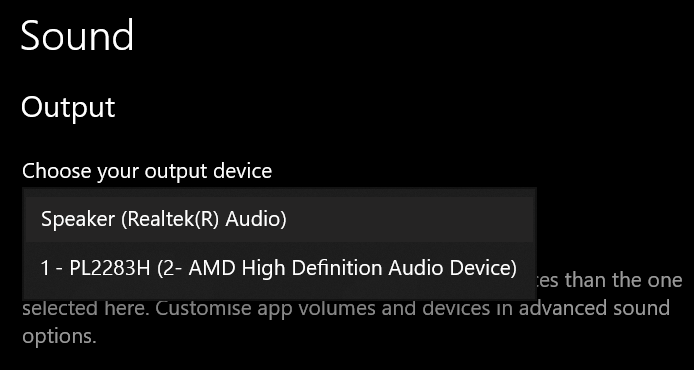 But some apps will save their own preferences. So we will need to check those as well.
4. Scroll down until you see the Advanced sound options section.
5. Click on the App volume and device preferences link.

6. Find your browser that you use for Collaborate in the list and check if you have options in the dropdown to select the sound source you expect to hear it from.

Notice that there is also an Input option if you are having problems selecting the correct microphone.
Go through Blackboard's own browser support pages
Read through and try everything suggested in Blackboard's support page for
Chrome: https://help.blackboard.com/Collaborate/Ultra/Participant/Support/Chrome_Support
Firefox: https://help.blackboard.com/Collaborate/Ultra/Participant/Support/Firefox_WebRTC_Support
Select the right audio and video device
When you use Collaborate for the first time a wizard will guide you through the setup.
It is important to pay attention to the device you choose to use with Collaborate if you have a choice.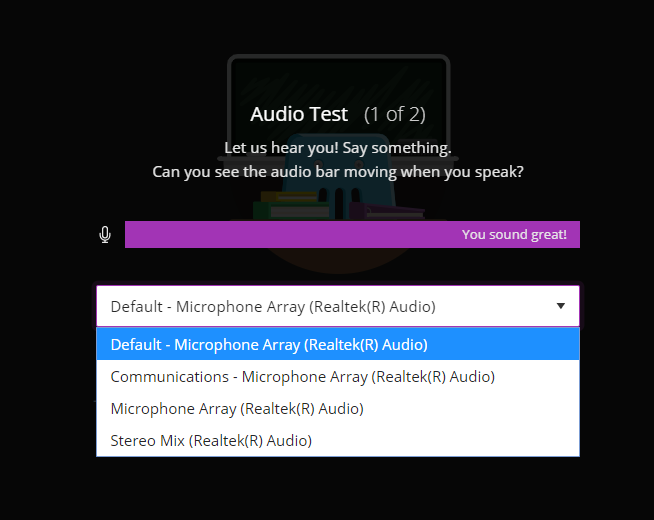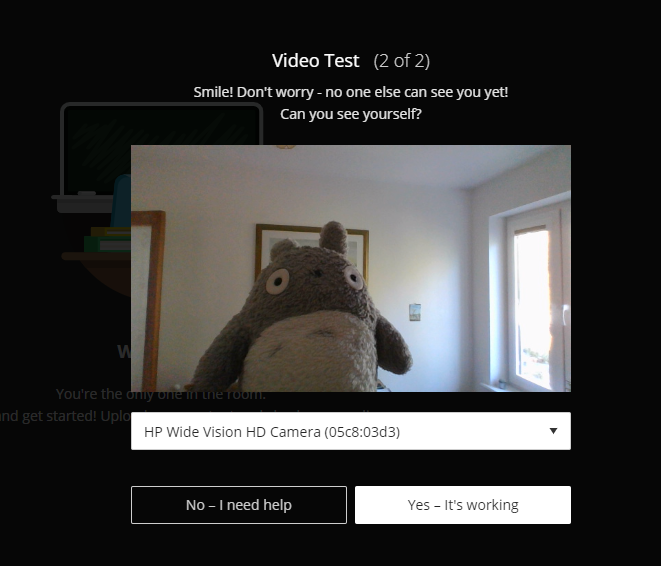 The recommendation is to use a headset with microphone.
Run through the wizard again
No luck?  Please try going through the wizard again and double check that you have selected the right devices.
Open the Collaborate Panel.
Click on the Cog.
Choose Set up Camera and Microphone.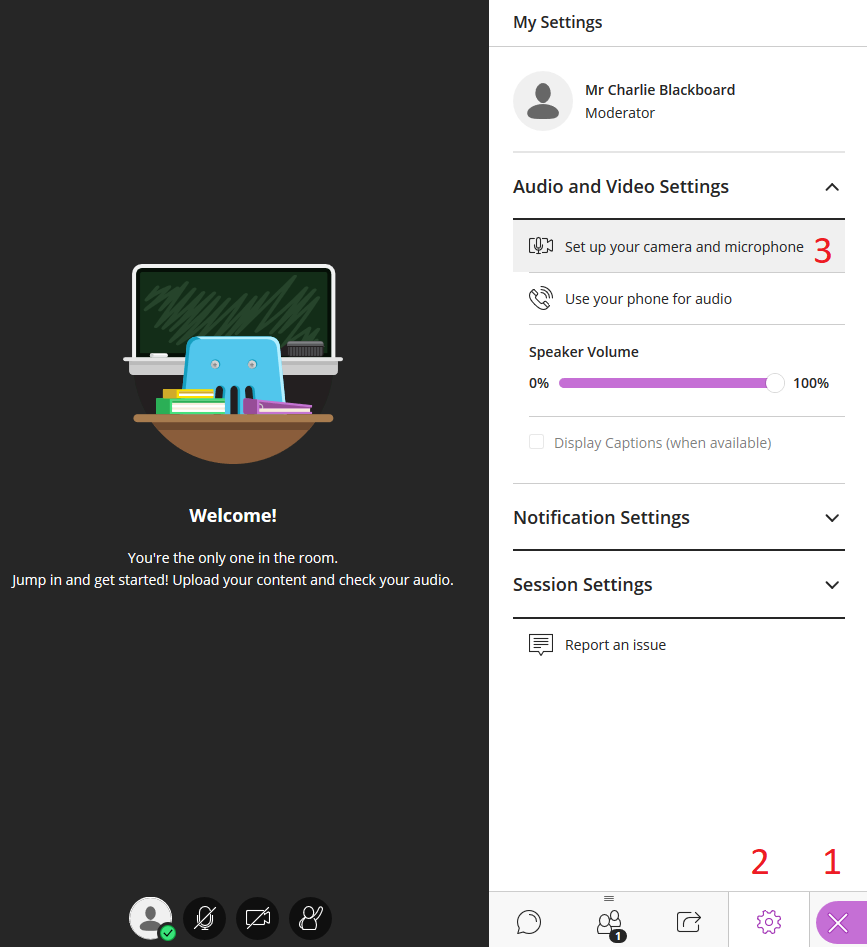 Go through Blackboard's support page about audio and video set up
Still not working?  Read through the page linked below and check through everything it recommends.
https://help.blackboard.com/Collaborate/Ultra/Participant/Participate_in_Sessions/Audio_and_Video
Getting help
Let your lecturer know if you are having issues with connecting or participating in a Collaborate session.
Use the Chat Support in  Collaborate to access Blackboard technical support.
Collect some useful information that will help us, and add it to the ticket you will raise.
Within the Collaborate session you can capture some date which will be very useful for us to check.
Open the session menu (the hamburger button at the top right).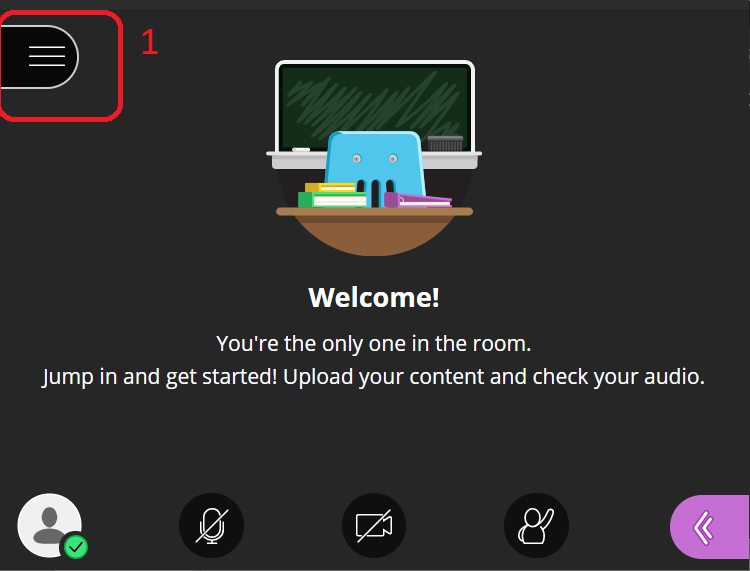 Click on Report an issue.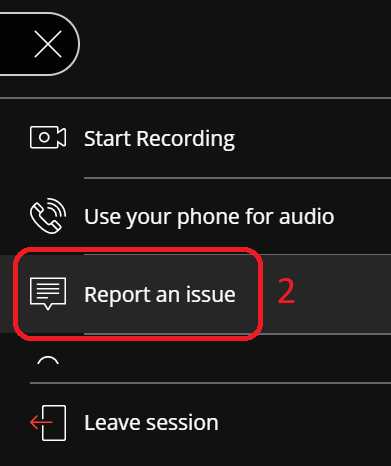 The collaborate panel on the right will open, scroll down this section.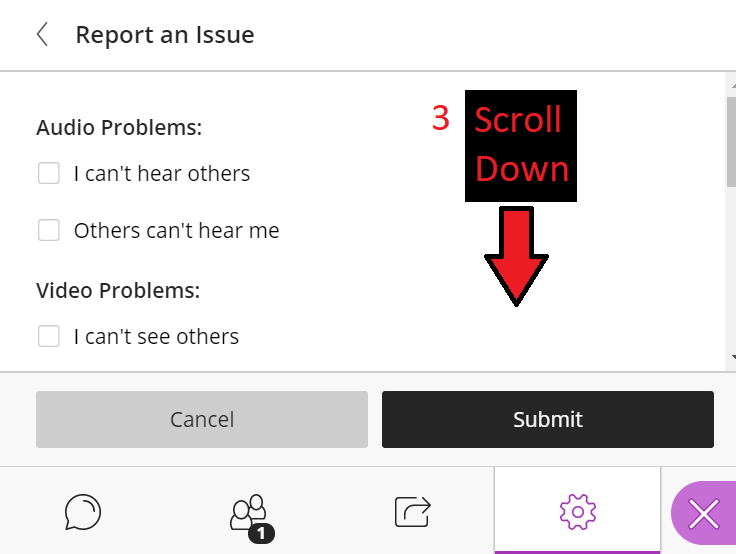 At the bottom will be a box of diagnostic text, select this text, right click on it, and choose copy. Then raise a ticket via ServiceLine describing the problem you are experiencing and paste in this diagnostic text so we can take a look.