Return to Blackboard Collaborate For Staff Main Page ↵
Content coming soon… for now check out these Blackboard web pages.
How to promote participants to presenters
Muting Attendees
Moderators can mute individual attendees or everyone in a session.
Mute Individual Attendees
From the Attendee panel, select the Attendee controls of someone with their microphone on that you wish to turn off. Select Mute from the list of controls. This will turn off the attendee's microphone but will not prevent the user from turning it back on. The attendee will be notified with a pop-up message, "The moderator muted your audio."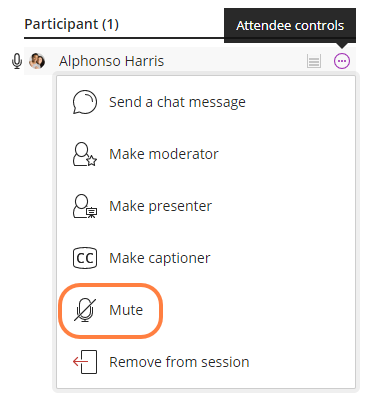 Mute All Attendees
Select More options at the top of the Attendee panel. Select Mute All. Attendees will be notified that the moderator has muted their microphone; however this is not a permanent action. All attendees have the ability to turn their microphone back on. The only way to ultimately control attendees from using their audio is to remove the permission to use audio in the Session Settings.