Return to Blackboard Collaborate For Students Main Page ↵
When in a large meeting, or when your microphone is disabled as a participant, it can be important for the presenter to get feedback from the participants. This can be done from within your profile picture.
At any time during the session, click on your profile to view the available feedback.

Currently, the feedback that you can give is
Happy
Sad
Surprised
Confused
Faster
Slower
Agree
Disagree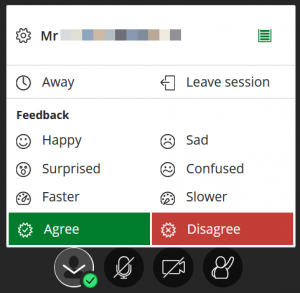 Clicking on any of these options will show the corresponding sentiment next to your name. A count of peoples feelings is also shown at the top of the Attendee panel.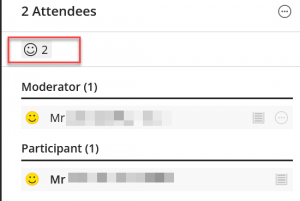 You can also raise your hand, which pops up a message on the presenter's screen with your name telling them that you wish to interrupt.