This page gives information for staff using Questionmark Perception to deliver exams in 2018-19. It contains important information regarding editing your exams in the future.
Executive Summary
When you request an exam to be scheduled in 2018-19, your exam will be moved to the Questionmark Cloud
You will be able to log into the Questionmark Cloud to edit your questions
You should no longer use Authoring Manager to edit your questions after your exam has been moved
Assessments are created by iSolutions; you only need to create the questions
What is happening?
Since December 2017 iSolutions has been copying your assessments onto the Questionmark OnDemand Cloud service so that students can take their exam on a modern, up-to-date assessment system. In 2018-19 your questions will be copied over, and assessment recreated so that Questionmark OnDemand becomes the home for your exams.
What changes will I see?
Questions created and edited in the cloud now use a single easy-to-use screen. It is harder to create a question incorrectly and quicker to generate new items.
All questions are now version controlled and can be rolled back. You will be asked for a "revision comment" when editing any question.
Recreating assessments
iSolutions will copy your questions to the Questionmark OnDemand Cloud and will re-create your assessment. We are primarily doing this so that we can re-build the Topics folder to have questions grouped by Module Code. Questionmark Perception On-Premise is over ten years old and has some questions in faculty folders, some in module folders and some in user folders (often under the username of a staff member who left years ago).
When training new staff, we found that most users didn't have any issues creating questions and that by creating assessments on their behalf we removed a significant amount of time for new authors. iSolutions checked over every part of the assessment during the scheduling process to check for mistakes, so creating the assessment correctly didn't consume any more iSolutions time.
Folders
iSolutions will create topic folders for you. You can create topic folders, but should only do so if you wish for us to create separate blocks in your exam.
Folders for a first-year "Example" course should look like
Folders for a course with a midterm and exam period test should look like
Folders for a course with two blocks should look like
EXAM1001

2018-19

Block 1 Introduction
Block 2 Math questions

Rubrics
Presumptions
We will make the following presumptions
All the questions in your topic folder are delivered to students
Questions appear in a random order
Feedback and scores are not shown to students
A rubric block is available with the mandatory text and your instructions and that the submit button says "Start Exam"
You should specifically ask if
You want questions to appear in more than one "block" (a block is a set of questions that students cannot return to once submitted)
You would like questions to appear with a digital formula sheet, scenario, or other text permanently on the left-hand side of every question
Instructions are required at the end of the exam
Word (or another application) should be made available after the exam
Editing questions
Signing in
If for some reason we have not created an account for you, follow step 1 here – https://elearn.southampton.ac.uk/ondemand/sso/
Sign into OnDemand using step 2 of this guide – https://elearn.southampton.ac.uk/ondemand/sso/
Finding your questions
When creating your account, we will create a folder for your items. If you have asked us to, we may have imported some questions from previous exams.
Sign in to OnDemand and choose "Authoring" from the top menu and then "Topics".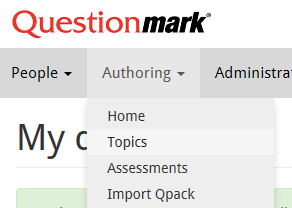 Click the arrow next to your course folder and click on this year's academic year (e.g. 2022-23).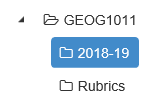 Editing questions
To edit a question click on its name. Your question will appear, you can edit any element of the question by clicking on the text.
Creating questions
If you need to make new items, you may find the information for new authors helpful – https://elearn.southampton.ac.uk/ondemand/new-authors/
Deleting questions
You can only delete a question if it has never been used in an assessment. As iSolutions will create an assessment as part of the conversion process you probably will not be able to delete questions yourself (for this year).
To remove a question from your exam, click on its name to edit it
Click on "Question Properties" on the left-hand menu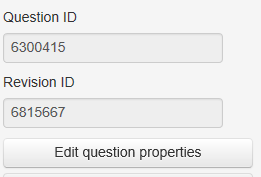 Edit the description of the question to say "RETIRED: question name". This will help you see that the question is deleted as it will still appear in your list.
Change the question status to "Retired"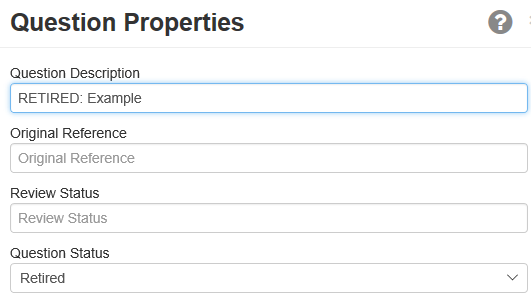 Press OK, then Save and Edit. You will need to make a revision comment, this can be "Retired question".
Publishing and re-publishing
Changes made in the Topics area of OnDemand are not automatically updated in students' exams. If you edit a question, you must ask iSolutions to republish your exam.