Go to the location within Blackboard where you would like to link to your Panopto video.
Click on the "Tools" menu and select "Panopto Video Link".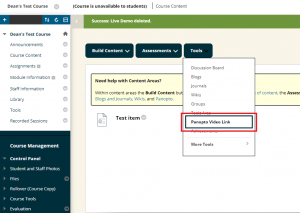 On the page that appears, use the drop-down menu to select the folder where your session is stored (usually this will be the course name).
Use the next drop-down menu to select the video.
The name field will complete automatically, you are able to change this now.
You can add a description in the description box, but you can leave it blank.

 When you are happy click submit and then press OK on the confirmation screen. Your link will now be available.