Previous step: Checking microphones and webcams
The following steps will help you capture your screen:
By default, Panopto attempts to record PowerPoint and the main screen. If you have more than one screen, it will be listed as "Second Screen", "Third Screen" etc.
You should always capture both PowerPoint and Primary Screen when recording a presentation. There is no need to unselect PowerPoint if you are not using it.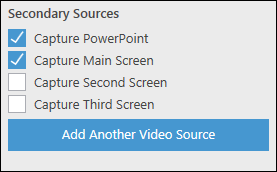 If using PowerPoints presentation view (where the primary screen shows notes and the upcoming slide), you may need to select "Capture PowerPoint" and "Capture Second Screen". If you are unsure, you can use the preview tick box to see what would be recorded.
Next step: Capturing visualizers, whiteboards and blackboards