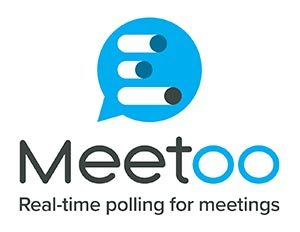 Meetoo is a cloud-based student response system that enables students to vote using a web browser or the Meetoo app on their own mobile device. The tutor logs in to their Meetoo account to control the polling, and can embed questions in their PowerPoint presentations using the free Meetoo add-in.
Students can take part in Meetoo polls three ways:
via the MySouthampton app;
via any modern web browser: access https://web.meetoo.io
They join a session by entering the 9-digit Meeting ID and clicking Join.
Meetoo for students
See our quick guide to using Meetoo.
For technical support and other questions not covered by the guide please visit Meetoo's website found at: help.meetoo.io/hc/en-us
Meetoo for tutors
The University has purchased an institutional licence for the Meetoo student response system. This runs until August 2018, by which time a decision about a longer-term licence will have been made. There are already over 50 individual users, and this pilot will allow us to test a scalable centrally managed, supported and funded system.
All users of the institutional system can create meetings with up to 1000 students.
Its URL is https://southampton.meetoo.io
Getting a Meetoo TUTOR account
Note: students never need an account; polling is usually anonymous but tutors can choose to have you create a profile (name and surname) when you access Meetoo. Note that students do not have to give their real name, but it is helpful if they do to enable online debate in the message board.
If you are new to Meetoo, please visit the sign-up page to request an tutor account. 
Make sure you use the University email address you wish to use to sign in to Meetoo – for example pq1m15@soton.ac.uk or P.Quarrel@soton.ac.uk.
Note that you cannot use a personal email address such as phoebe.quarrel@gmail.com.
You will receive an email invitation from hello@meetoo.io; click the link it contains and create a profile and password.
The Meetoo PowerPoint add-in
The Meetoo PowerPoint for Windows add-in enables you to create and run fully integrated polling slides using PowerPoint. It is now available on all CLS PCs and UDE office PCs via the Additional Software icon on the desktop – installation takes about a minute.
Downloads for non-UDE Windows PCs and Apple Macs are available from Meetoo.
Remember that you will need to start by logging in to your Meetoo account using the Meetoo control ribbon to connect your polling slides to your Meetoo account.
Can't use the PowerPoint add-in?
You don't have to use the PowerPoint add-in; you can use Meetoo in a web browser and just flip between that and your slides (or PDF file, Keynote slides etc.) using Alt-Tab:
Hold down Alt and tap the Tab key until the program you want is highlighted.
Quickly press Alt-Tab to flip to the last application you used… and again to flip back again.
A PDF guide to Using Meetoo in a Web browser is available
Support options
Meetoo provide lots of online guides and FAQs
There is also an online Meetoo community that shares expertise and experience
We are also creating some local guidance:
Contact Adam Warren (a.j.warren@soton.ac.uk x24486) if you'd like to discuss how Meetoo can be used to support learning and teaching, or need some help getting started.